1 - Relaxation
Surveys consistently show the main reason Naturists remain committed to Naturism, is the pervasive 'sense of relaxation' that is engendered only by the absence of clothing.
2 - Delight
The sense of simple delight while skinny-dipping is simply unsurpassed for most people.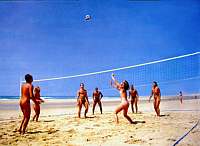 3 - Health
For many Naturists, the special sense of living a healthy lifestyle extends well beyond getting an adequate dose of vitamin D!
Naturists are well-versed in balancing the advantages and dangers of the sun.
4 - Fun
Beach Naturists generally, find others on the beach very much easier to talk to than the 'textiles' do.
'Club' Naturists, especially, are inclined to indulge in games of all sorts at their 'rallies'.
5 - Social Conact
After, 'Why didn't I try this ages ago,' another constant comment of novice Naturists is, 'These people are so much friendlier than clothed ones'.