Look for the Fred Bear flag among the last group on the beach!
---
Christchurch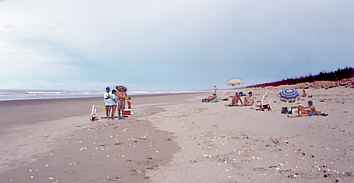 Woodend Beach
This one of several skinny-dipping spots north of Kaiapoi, near Christchurch. Following the earthquake, this beach (next south, from Waikuku), had been the 'preferred spot' for the Christchurch membership. Now, however, it's back to Spencerville! From the end (right) of Ferry Road, head south on the beach.
From the end of Ferry Rd, there's a 5 min walk to this area
Spencerville, North Beach
Following the earhquake, this area has returned to being the 'preferred spot' for Christchurch members.
Following liaison with the police, the recognised area of Spencer Park beach is 200m north of the Heyders Road entrance. This area is both closer to Christchurch and easier to get onto the sand, than Waikuku.
If it looks a little chilly - it's our inaugural mid-winter swim...
Waikuku Beach
Waikuku used to be the 'favoured place' by the Canterbury FBNZ (now it is Woodend). Nearer town is Taylors Mistake, which is often populated with textiles; but normally that's no bother to anyone.
One of several similar beach areas north of Christchurch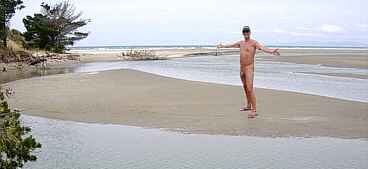 Leithfield Lagoon
Next north of Waikuku from Christchurch, is Leithfield. The top end of this lagoon is about 3km south from there.
This how the lagoon looks with the tide out
Taylors Mistake
This is actually a little bay 'around the corner' (left) called Hobson Bay. But it does lose the sun earlier in the afternoon, than Taylors Mistake; where the afternoon sun prevails.
There are usually a lot less people around here than on the main beach area
Waimairi Beach
First stop north of New Brighton Beach is Waimairi. This one doesn't have the best of reputations so FBNZ members tend to avoid it.
If you do go here, please keep at least 50m away from any textiles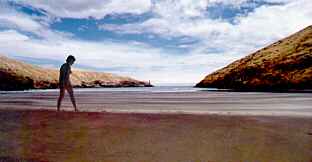 Tumbledown Bay
Here is a quiet spot, quite a long way from Christchurch, on the southern side of Banks Peninsula. Unless you happened to catch one of Canterbury Free Beach's occasional trips there, you'd usually have it to yourself.
The long flat tidal run certainly makes it safe for kids
---
Home
Overview
Top